Katzelsdorf Castle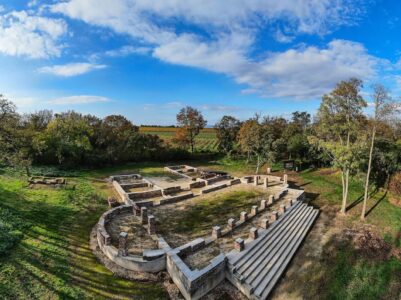 The hunting lodge in the Katzelsdorf Forest near Valtice was one of the short-lived buildings in today's landscape composition of the Lednice-Valtice area. It was built according to the plans of the Viennese architect Joseph Kornhäusel for Johann I Joseph, Prince of Liechtenstein in 1817–1818, but was not finally completed and approved until 1819 under the architect Franz Engel. It was a building consisting of two parts: a representative neoclassical hunting lodge and two wings of a hunting lodge.
The demise of the castle was caused by the building of the Iron Curtain, when in 1953 the last gamekeeper Michal Kycl and his family left. For the next three years, the building served as a hayloft, then it burned down and from 1957 the employees of the state forests gradually began to demolish the adjacent lodge. At the beginning of the 1960s, the rest of the building was dismantled by the Border Guard and the material was used, among other things, in the construction of houses in Valtice.
In October 2018, Spolek pro obnovu Katzelsdorfského zámečku, z. s., (Association for the Restoration of Katzelsdorf Castle) was established with goal to rebuild this defunct building in the form of a historical replica or reminiscence. The association started the cultivation work in March 2020, when it was necessary, among other things, to cut down and process woody growth and remove over 300 tons of ballast. The necessary landscaping, maintenance, conservation and security work followed, all with the considerable help of temporary workers, supporters and generous sponsors. In addition, on 10 July 2021, the torso of the castle became a cultural monument of the Czech Republic.
Nowadays, visitors can ascend the restored entrance staircase to the former hunting hall, which walls have been renovated by two stone reliefs with hunting themes since 1907. The adjacent longer right wing, including a smaller cellar for storing food, was used as a gamekeeper's dwelling. The shorter left wing was used for farm purposes. There were also two wells, other barns, a barn building and the so-called dairy at the orchard.
©LVMF
---