Church of St. James the Elder, Lednice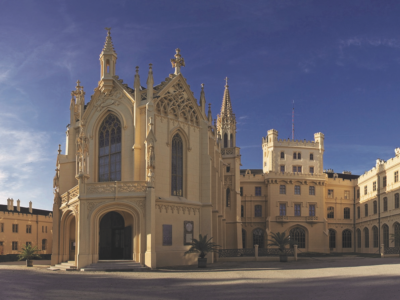 The gothic church which was the predecessor of today's chateau church was destroyed by the Hussites in 1426. A new parish and chateau church was built in 1495 and dedicated to St James the Elder. However, the expansion of the castle in 1731 necessitated the construction of a new church, which was built on the current site. The tombstones of Jan of Liechtenstein (from 1522) and of Hartmann of Liechtenstein and his wife (from 1579) were relocated to the wall next to the entrance of the new church to highlight the ancient roots of both buildings. From 1554 to 1600 the church was in the hands of the Czech Brothers. In 1600, under Karel I of Liechtenstein, the church once again became Catholic. In 1616 a bell was cast in Znojmo and purchased for the church. It remains in the tower to this day. The statue above the entrance to the church represents the Virgin Mary standing on a crescent moon – a symbol of purity. St Methodius stands on her right with a patriarchal cross and a book. On her left we find Saint Francis of Paula, the founder of the Paulans. The statues were sculpted by Franz Högler.
We enter the chateau church through an arched vestibule, above which is a valuable relief from the 15th century depicting the death of the Virgin Mary. In the mid-19th century, under Alois II Josef of Liechtenstein (1796-1858), the chateau and its church were rebuilt. This reconstruction, to its current Neo-Gothic (Windsor) form, was designed by architect Georges Wingelmüller. The decoration corresponds to the decoration of the castle. The walls are richly decorated with filaments, gargoyles, curves and other elements. The painting on the main altar was originally painted by Petr Brandl. It was later replaced with an 1856 neo-Gothic wing altar decorated on the theme of the Holy Family and painted by Franz Ittenbach. On the left, in front of the presbytery, there is a wooden pulpit. The walls of the nave are decorated with stone reliefs by the Anglers brothers from 1856, which show the stations of the cross. The monumental stone crucifix is the work of Josef Klieber from the 1920s. The church was consecrated on 5 October 1858, by the sixth bishop of Brno, Antonín Schaffgotsch. The interior of the church can be seen from the princely oratory on the first floor. The church served not just the princely family but also local parishioners. The chapel is crowned with star vaulting, and the nave with a vault. The extremely valuable organ is around 430 years old. A holy relic is at the entrance on the left; a stone from the holy mountain Oreb, also known as Mt Sinai, the place where God gave Moses the Ten Commandments and a place that both Jews and Christians consider sacred.
Capacity 260 seats. Barrier-free entrance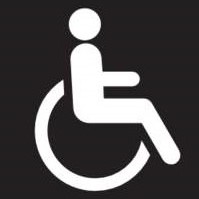 Parking: Lednice square (paid) or from the Riding Hall's side on the street 21 April (paid)
©LVMF
---