Temple of Diana – Rendez-vous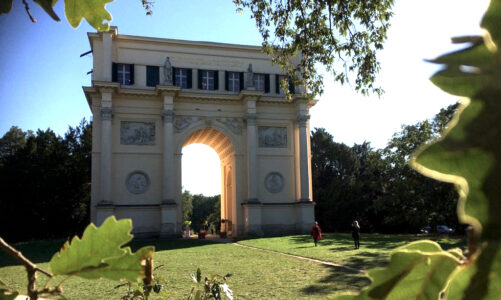 After the sudden death of Prince Alois I Josef of Liechtenstein in 1805, his younger brother Jan I. Josef inherited the family estates. Jan I. Josef Liechtenstein, amongst other things, had participated in the Battle of Austerlitz. Prince Jan I began construction of Temple of Diana – Rendez-Vous. It was built in 1810-1813 by Architect and Royal Construction Director, Josef Hardtmuth. Following his retirement from royal service in 1812, the new temple was completed by architect Josef Kornhäusel. Supervision of construction was entrusted to Josef Poppelack, a sculptor from the workshop of the Viennese sculptor Josef Klieber. The painted decoration of the halls is the work of Michael Rober. The relief decoration references ancient mythology. Each story has a connection with Diana, the Godess of Hunting, and by extension, her brother – the sun god Apollo.
This romantic building paraphrases a Roman triumphal arch. The main facade of the Temple of Diana comprises four staging pillars on which the attic floor rests. The bases and capitals are Corinthian. Architecturally, the two main facades and the cornice are matched to the Imperial Roman style. The attic floor has two windows on the northern facade and three reliefs on the southern. The facades are decorated further with two square reliefs and two roundels. The inside of the arch is decorated with eighty-one cartridges with double recessed trims, with roses in their centres. The building was originally used for hunting festivities in the summer and autumn. There are four interior floors, the lower two of which are divided by the arch. On the right, there is a staircase with vaulted ceilings with lunettes, the walls of which are painted with shaded nailheading. On the left side, there is a two-storey Manager's apartment. On the third floor, there is a small lounge, which is occasionally used for representative purposes. A richly stucco-decorated main hall dominates the saleta. It measures 7 x 16 meters.
Above the main hall are communication links between the right and left parts of the building.
©LVMF
---