Marc-Antoine Charpentier (1643-1707) Prelude – Te Deum a 8 voix H 146

for trumpet, strings and continuo

Georg Philipp Telemann (1681-1767) Concert for Viola, Strings and Continuo G Major, TWV 51:G9

I. Largo, II. Allegro, III. Andante, IV. Presto

Jan Jiří Benda (1714-1752) Concert for Violine, Strings and Cembalo G Major, Op.43

I. Allegro, II. Grave, III. Allegro

interval

Georg Friedrich Händel (1685-1759) Suita D major HWV 341

for trumpet, strings and continuo

Wolfgang Amadeus Mozart (1756 -1791) Symphony Concertante for Violin, Viola and Orchestra in E flat major, KV 364/320d

I. Allegro maestoso, II. Andante, III. Presto

VÁCLAV HUDEČEK – VIOLIN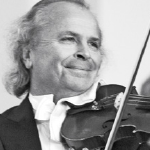 Václav Hudeček was born in 1952 in Rožmitál pod Třemšínem. He is a Czech violin virtuoso who is one of the regular stars of the Czech concert scene. On November 12, 1967, he performed as a fifteen-year-old at a concert in London with the Royal Philharmonic Orchestra. The next day the legendary David Oistrach heard him perform, predicted a great future, and offered him pedagogical help. From 1970 until Oistrach's death in 1974 Hudeček was a student of this great master. At the same time, he studied at the Academy of Performing Arts under Professor Václav Snítil.
Since his London debut, he has performed on the world's leading stages (Carnegie Hall, Royal Festival Hall, Suntory Hall, Osaka Festival Hall, Sydney Opera) and with leading international orchestras (the Berliner Philharmoniker, the Cleveland Symphony Orchestra, the NHK Philharmonic Orchestra, Gewandhaus Leipzig, the Moscow State Philharmonic, and others), He has also performed at world festivals (Osaka, Salzburg, Istanbul, Perth, Helsinki). He is still follows in the footsteps of David Oistrach and other giants of the Russian violin school and he performs in the tradition of Oistrach, Kogan and Sitkovetsky.
Hudeček has recorded on Supraphon, Panton, Japan Victor Company, Ex Libris and other labels. His recording of Vivaldi's 'Square of the Seasons' has been the most successful title in the Czech Republic since November 1989. Václav Hudeček interprets not only the compositions of the old masters but has also extended his repertoire to works of the 20th century (Janáček, Prokofiev) and the compositions of contemporary Czech composers (Kymlička , Fišer, Mácha).
He carefully fosters the emerging Czech musical generation, both by organizing summer violin courses in Luhacovice every year, and by presenting the best performers as guests at his traditional traditional Christmas tours concerts or at the Svatky Hudby events held in Prague, Luhačovice, Zlín, Moravian Budejovice and in other cities.
KRISTINA FIALOVÁ – VIOLA
Kristina Fialová was born in Brno in 1987. She built the foundations of a successful artistic career at the Brno Conservatory (Miroslav Kovář), at the Carl Maria von Weber University for Music in Dresden (Professor Vladimir Bukač), the Royal Danish Academy of Music in Copenhagen Tim Frederiksen, Professor Lars Anders Tomter) and at the Academy of Performing Arts in Prague (Professor Jan Pěruška). Specialist critics recognise her for her perfect technique, her fiery temperament and sophisticated musical sense. Winning the title of absolute winner at the Michal Spisak International Competition for young Viola players in Katowice, Poland in 2013 opened the door to leading European stages. In addition to a debut at the prestigious Danish Tivoli Festival, she debuted at the famous Tonhalle Zürich, and at MHF Prague Spring 2015, where she performed a solo recital.
She regularly performs with leading Czech and foreign orchestras (the Copenhagen Philharmonic, Aarhus Symfoniorkester, Mannheim Kammerorchester, Prague Chamber Philharmonic Orchestra, the Czech Radio Symphony Orchestra, the Czech National Symphony Orchestra, The Janáček Philharmonic Orchestra of Ostrava, the Pardubice Chamber Philharmonic, the Brno Philharmonic Orchestra, the Pilsen Philharmonic Orchestra, the Elbland Philharmonic Orchestra, the Moravian Philharmonic in Olomouc, the Zabrze Philharmonic, the Bohdan Warchal Slovak Chamber Orchestra, the Bohuslav Martinů Philharmonic Orchestra, Czech Chamber Soloists and others). She is a laureate of many international competitions – the Johannes Brahms Competition, ACT London, Beethoven's Hradec, the Alexander and Buono International String Competition, the Val Tidone Competition, the Danish Academy of Music's soloist competition, and others.
She has released eight CDs on Czech labels Supraphon and ArcoDiva and on the Danish Dacapo label. She has led master classes in Lima, Copenhagen, Qingdao, and Canton. She plays an Italian "Carlo Antonio Testore – Contrada 1745" violin. She is one of the artists of the German company Pirastro and plays strings exclusively for this brand.
https://cs.wikipedia.org/wiki/Kristina_Fialová
THE JANÁČEK CHAMBER ORCHESTRA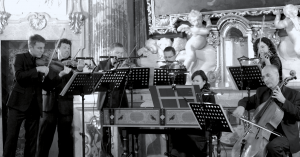 The Janáček Chamber Orchestra was founded in 1964 by leading players of Janáček Philharmonic. Zdeněk Dejmek soon became its Artistic Leader and with his impressive musicality, sense of style and systematic and precise work, he brought the orchestra to excellence and impressed on it his distinctive interpretative mark.
The repertoire of the Orchestra includes works from the Baroque to the present, which fit the sound possibilities of a smaller string orchestra. Today it is no longer an exception to extend the orchestra to include other instruments. Its leading interpretation has repeatedly led the Orchestra to perform at festival concerts both domestically and internationally, where it has performed with renowned Czech and foreign soloists. Recordings of the orchestra have been produced by Czech Radio and others including Supraphon, Panton, Riccordi, RCA – JVC, Crystal, Stylton and Slovart Records.
In 2005, Zdeněk Dejmek handed the Artistic Director's baton to lead violinist Jakub Černohorský, who successfully led the Janacek Chamber Orchestra on its tour to South Korea in 2004. In the following years, the orchestra participated in numerous national and international festivals (including the Prague Spring Festival, Janacek Maj, Janáček Hukvaldy, Musica Sacra in Nitra, and festivals in Poland, the Netherlands, and tours to Spain and Italy). In 2011, the Janacek Chamber Orchestra recoded a new profile CD with the British label Chandos Records entitled Czech Music for Strings with works by Janáček, P. Haase and B. Martinů.
BUY TICKET: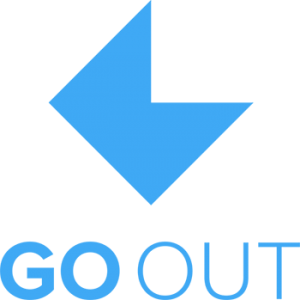 MAJOR PARTNER OF THE CONCERT: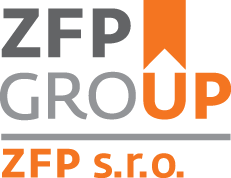 PARTNERS OF THE CONCERT: