Liechtenstein Palace at Malá Strana, Prague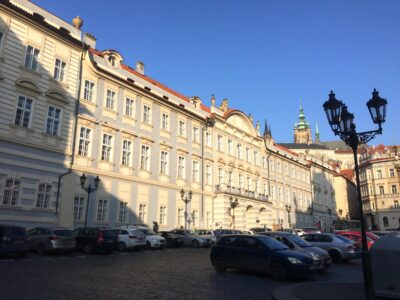 Originally, Lichtenstein Palace is a complex of five houses located on Malostranské náměstí 258/13 in Malá Strana, Prague. The building's décor dates from a reconstruction after 1791, probably by Matěj Hummel. Today, the palace houses the Faculty of Music and Dance of the Academy of Performing Arts in Prague.
The palace was named after the family of the same name, from which came the Czech royal governor Karl I, Prince of Liechtenstein, who connected the individual houses on Malostranské náměstí in 1622–1623 and began their great unifying reconstruction. In 1638, Karl's son Karl Eusebius added a corner house to the palace complex. Subsequently, the palace was leased to the 1st Land Post Office in 1742–1790.
On the occasion of the coronation of Leopold II as King of Bohemia, Aloys I, Prince of Liechtenstein created today's early neoclassical monumental symmetrical two-storey façade and palace architecture. Matěj Hummel is considered to be the author of the design.
For unknown reasons, Johann I Joseph, Prince of Liechtenstein, who was Aloys' brother, decided to sell the palace in November 1808 to Augustus, Count of Ledebour-Wicheln, for 125,000 gold bank notes. Since it was a trust property, the registration of the new owner did not become effective until 1825. Probably the most famous tenant was Josef Dobrovský, who lived in the palace from 1811 to 1826.
During the Count of Ledebour-Wicheln era, the corner part of the palace was rebuilt by the architect and builder Kašpar Přadák. It was probably then that the late neoclassical interior of the great hall in the rear courtyard wing was redesigned. In 1848, the palace housed the general headquarters of Alfred Prince Windischgrätz and from 1850, when the building was bought by the state, the military administration. The army was housed here for more than a hundred years. It was only after 1960 that the palace became the headquarters of the Communist Party of Czechoslovakia. The last extensive modification of the palace complex was carried out for the needs of the Music Faculty of the Academy of Performing Arts in Prague in 1990–1991 according to the project of Pavel Kupka's architectural studio. The most generous space on the first floor is the large concert hall, now named after Bohuslav Martinů.
©LVMF
---