City Palais Liechtenstein in Vienna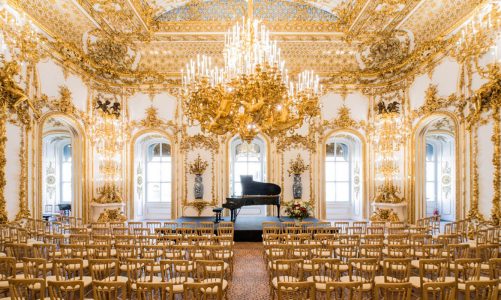 Work on the original palace began in 1691, commissioned by Count Dominik Andreas Kaunitz to plans by Enrico Zuccalli. Nevertheless, in 1694, Prince Johann Adam Andreas I Liechtenstein purchased the unfinished building and with a purpose to rebuild it as the family's principal residence. This task was completed by Domenico Martinelli and prominent contemporary artists such as the sculptor Giovanni Giuliani, who sculpted the façade, attic and interior, or the stuccateur Santino Bussi. The palace had to contain residential apartments as well as all the necessary rooms for the prince's household. First rebuilding adjustments took place in 1705 as the second floor housed a gallery displaying the holdings of the Princely Collections, which immediately became a centre of attraction for connoisseurs of art. Further reconstructions took place by the initiation of Prince Alois II Liechtenstein, who had the palace remodelled in rococo style by Peter Hubert Desvignes.
The interior decoration was executed by craftsmen Carl Leistler and Michael Thonet, who is responsible for the inlaid parquet floors made of different types of wood.
In the final days of World War Two, the palace suffered extensive damage from direct hits in a bombing raid − the ceiling of the stairway on the second floor was completely destroyed as well as the adjacent state rooms, which were seriously damaged. In the following years, work was carried out in order to repair the worst damage, but due to the financial losses the palace was not restored until 1974/76 as the complete reconstruction was started in 2008 and was finalized in 2013.
Photos: Martin Tiso
---