Church of the Birth of the Virgin Mary Velké Bílovice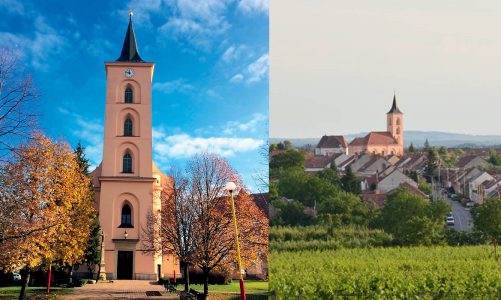 In 1417, one of the most powerful families of South Moravia, the Liechtensteins, acquired the village of Velké Bílovice (Groß Billowitz). From 1536, for almost a hundred years, the owner of the whole Breclavian estate became the equally respected Zierotin family, who were also written indelibly in the history of South Moravia. After the Battle of the White Mountain in 1620, non-Catholics – and from Great Bílovice especially the clergy and members of the Czech Brothers – were systematically expelled from the country. As a result the Czech Brothers' prayer hall was empty and dilapidated for a long time
In 1765 when this 1564 building, built by the then owner of the estate, Jan Jeremiah of Zierotin, threatened to collapse, Prince Josef Lichtenstein decided to reconstruct it by rebuilding on the floorplan of the original building.
The Church of the Birth of Our Lady is a Baroque form, but the older foundations are integral, as evidenced by the tomb under the presbytery. One of the main actors of the Bohemian uprising and the leader of the White Mountain Resistance (in which he died), Ladislav Velen of Zierotin (1581-1638), is probably buried here with his wife and daughter.
Another reminder of the church's Renaissance roots is the votive plate of father Jan the Younger of Zierotin and his wife Kunka (Kunhuta) of Boskovice. The plate, located at the entrance on the left side of the hall under the tower, is richly decorated stonework decorated with the coats of arms of both spouses and a partially preserved inscription.
The single-nave church structure is completed in the East by a polygonal closure of the chancel and a rectangular sacristy in the southern wall. At the northern side of the chancel is a stepped chapel with a spiral staircase on the western side. The west façade is on the axis of a monumental high quadrilateral tower with its main entrance to the church. In the corner on the southern side of the tower there is a half-roller staircase, ending with a flat roof over the main mounding. The roof of the tower is in the form of a quadrangular pyramid and is topped with a poppy with a cross.
The image on the main altar represents the birth of the Virgin Mary and was consecrated in 1784. The statues on the altar date back to the 19th century. The original organ of 1785 was replaced with a new one in 1952. The Liechtenstein crest can be seen on the top of the organ and its piping.
©LVMF
---