Church of the Assumption of the Virgin Mary Valtice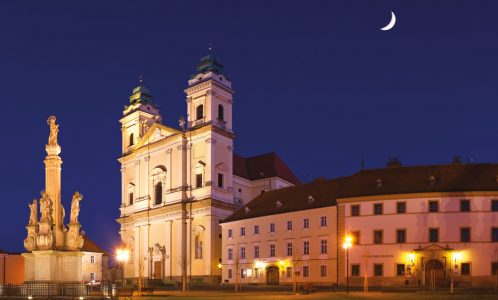 The Church of the Assumption of the Virgin Mary dominates the south-eastern part of Valtice Square. It was built between 1631-1671 by Prince Karel Eusebio of Liechtenstein, and designed by Italian architect Giovanni Giacomo Tencalla. In 1638, during the construction of the church, the arch of the vault collapsed and the work was taken over by Andreas Erna of Brno In 1638. The construction process was interrupted for a number of reasons, including invasions by the Swedes and later incursions of Turkish troops into southern Moravia.
The church is almost 50 metres long and 34 metres high. It has a single rectangular nave which terminates in a rectangular chancel. The ceiling features two fields of barrel vaulting. The corner towers originally had tent roofs, with the present appearance the result of reconstruction in 1908. In 1992 two new bells were installed in the tower. The original bell from the Church of the Assumption can now be viewed on the corridor of Valtice castle. The Church walls are adorned with rich stucco and sculptures by Bernard Bianchi and Giovanni Tencalla. Statutes of the four evangelists are in niches in front of the main altar. On the sides of the main altar are statues of Emperor Saint Jindřich and Pope Sylvester II and above you will find Aaron and Moses. The altar tableau is a copy of Rubens; Assumption by Giovanni Fanti and hanging over the altar is Rubens' Trinity.
©LVMF
---