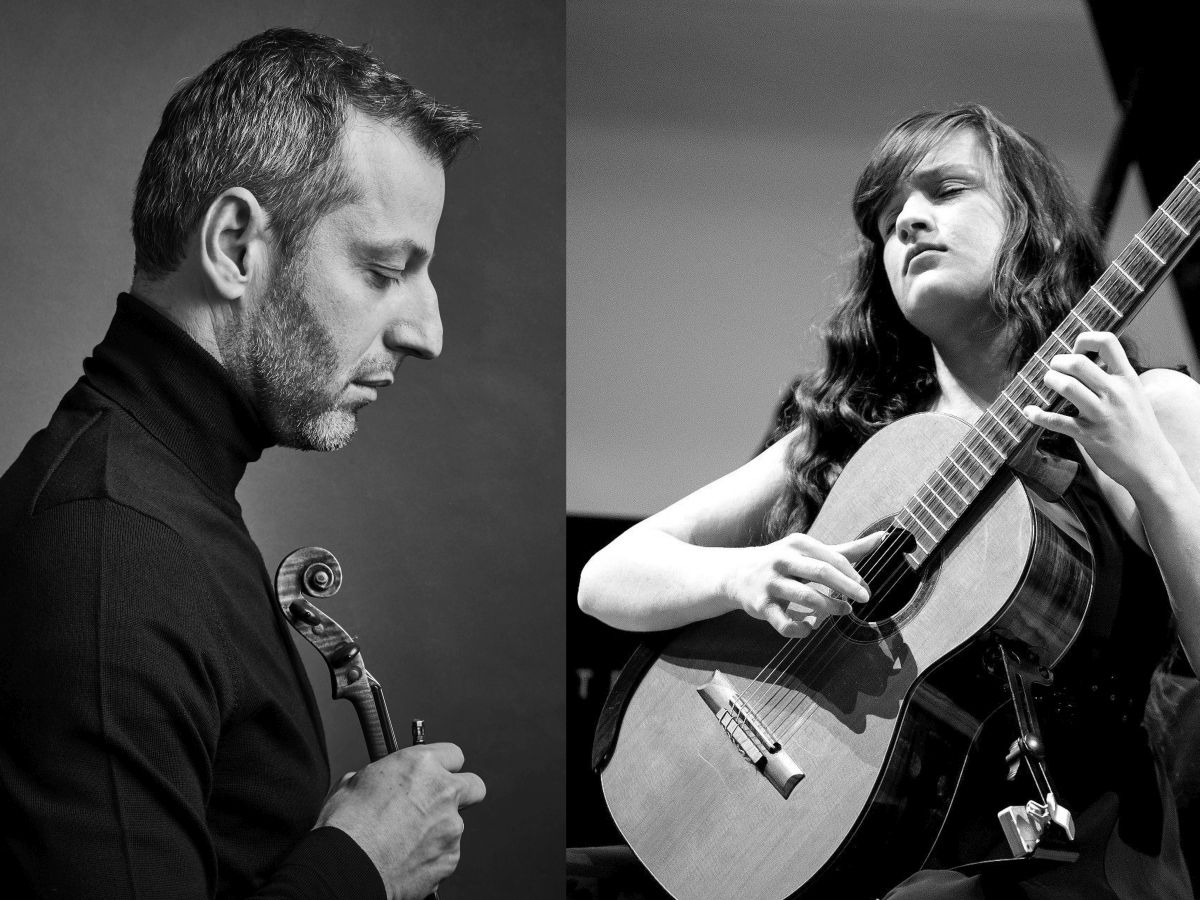 CANCELLED Spanish Passion | Partyka & Kubíková
7th festival concert
Who
Jiří Partyka (Violin)
Andrea Gonzalez Caballero (Guitar)
Where
Valtice Castle Theatre
Program

CHANGE OF PROGRAMME
Federico Moreno Torroba Suite castellana · Isaac Albéniz Asturias · Pablo de Sarasate Romanza andaluza · Miguel Llobet Diez canciones populares cantalanas (Auswahl) · Agustín Barrios Mangoré La Catedral · Una limosna por el amor de Dios · Leo Brouwer Elogio de la Danza · Astor Piazzolla Café 1930 · Inverno porteno · Libertango
EUR 40/24/12
Programme: In the new programme of violinist Jiří Partyka and guitarist Barbora Kubíková, not only you will not lose the beauty of Spanish music, but we will also take you to the charming musical journey in Latin America, specifically Argentina, Paraguay and Cuba. Several famous titles will be heard: Libertango by Astor Piazzolla, in which the so-called "Tango nuevo" was born, or a composition famous for the tremolo technique – An Alm for the Love of God by Agustín Barrios Mangoré. You can look forward to the popular Asturias by Isaac Albéniz or Andalusian Romance for violin and guitar by Pablo de Sarasate.
Barbora Kubíková (Guitar)
Guitarist Barbora Kubíková (*1998) is one of the most significant Czech musical talents of the upcoming generation. Her latest great success is the title of laureate of the "Play with the Czech Philharmonic" competition in 2018. Besides that, she won the following international interpretation competitions: Karel Ditters International Interpretation Competition in 2016, Enrico Mercatali in 2015, Anna Amalie in 2015, Concertino Praga International Radio Competition in 2013 and many others. In 2013, she received the EMCY Award for Outstanding European Musical Talents. Since 2017, she has been collaborating with the world-famous Argentine tenor, composer and conductor José Cura. Alongside this exceptional musician, she performed with the FOK Prague Symphony Orchestra, at the Semperoper in Dresden as part of the Dresdner Musikfestspiele 2018 festival, with the Musikkollegium Winterthur at the Tonhalle Maag in Zurich, the Hungarian Radio Symphony Orchestra etc. She has also made her debuts in China and in the cradle of guitar – Spain. Barbora Kubíková is a graduate of the Conservatory in České Budějovice (Patrick Vacík) and is currently studying at the Hochschule für Musik Franz Liszt in Weimar, Germany (Ricardo Gallén).
Jiří Partyka (Violin)
Jiří Partyka, born in Valtice, enrolled in the violin department at the Conservatory in Brno under Professor Jiří Besperát. These studies were followed by studies at the Academy of Performing Arts in Prague in the master class of Professor Jindřich Pazdera. In 1998, he performed as soloist on the Brno Chamber Orchestra's tour throughout the USA. As a concert master, he has worked with the Talich Chamber Orchestra and also as a guest concert master with the Salzburg Chamber Philharmonic. He currently holds the post of a concert master of the St. Gellért Academy Orchestra in Szeged in Hungary. He was from 2004 to 2020 a member of the Czech Radio Symphony Orchestra in Prague as a first deputy concert master. In 2014, he performed with the Pavel Haas Quartet at a festival in Glasgow. Jiří Partyka is the founder and the artistic director of the LEDNICE|VALTICE MUSIC FESTIVAL (LVHF).
Partners of the Concert

VALTICE
Winery of the Concert