Felix Mendelssohn – Bartholdy (1809-1847) Capriccio in E minor, Op. 81 no. 3

I. Andante con moto

II. Allegro fugato assai vivace

Wolfgang Amadeus Mozart (1756-1791) Concerto in A Major for Violin no. 5, KV 219

I. Allegro aperto

II. Adagio

III. Rondeau: Tempo di Menuetto

************************************

Franz Schubert (1797-1828) Rondo in A Major D 438

Felix Mendelssohn – Bartholdy (1809-1847) Concerto in D minor for violin

I. Allegro molto

II. Andante

III. Allegro

BAROCCO SEMPRE GIOVANE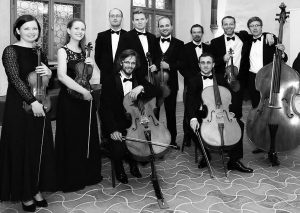 (Baroque still young) is a chamber ensemble composed of top young professional musicians. It specialises in the interpretation of High Baroque works but does not shrink from performing works from other stylistic periods. The ensemble was founded in 2004 by Professor Josef Krechmer who is also its Artistic Director.
The ensemble has already performed hundreds of times at major concerts, and has appeared at both domestic and foreign music festivals (Prague Spring, Smetana's Litomyšl, the Brno International Music Festival, Festival Concentus Moraviac, the Mitte Europa Festival, The Ohrid Summer Festival, Nitrianska Music Jar, Le Quattro Stagioni, Kammermusik um halb acht Basel, Bach Istanbul'da, etc.). Its concerts have been broadcast live by Czech Television, Televize Noe, and Czech Radio, and recorded on CD. They organise their own subscription series concerts.
The ensemble works with leading Czech and foreign soloists including for example; Jan Mráček, Václav Hudeček, Ivan Ženatý, Jana Boušková, Dagmar Pecková and Giuliarno Carmignola.
JAN MRÁČEK – Violin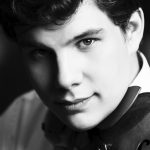 Jan Mráček is one of the most talented young violinists of his generation. He is Graduate of the Prague Conservatory (Jiří Fišer) and a student of the prestigious Universität für Musik und darstellende Kunst in Vienna (Jan Pospíchal). He has received awards from many international competitions (Beethoven Hradec, the Jaroslav Kocian International Violin Competition, and especially 1st place in Vienna's famous Fritz Kreisler International Competition. He has worked with various leading Czech orchestras (the Czech National Symphony Orchestra, the Janacek Philharmonic Orchestra – Ostrava, and the Moravian Philharmonic – Olomouc). He is also active in chamber music.
"… this artist is a real phenomenon: he plays with the greatest enthusiasm, yet his playing radiates serenity and balance." (Fränkischer Tag)
MAJOR PARTNER OF THE CONCERT: