Wolfgang Amadeus Mozart (1756-1791) Overture from the opera Abduction from the Seraglio

František Kramář (1759-1831) Harmonie – Partita in E flat major "La chasse"

I. Allegro vivace

II. Menuetto: Presto

III. Adagio – Andante cantabile

IV. Alla polacca

************************************

Wolfgang Amadeus Mozart (1756-1791) Serenade in C minor KV 388

I. Allegro

II. Andante

III. Menuetto

PHILHARMONIA OCTET PRAGUE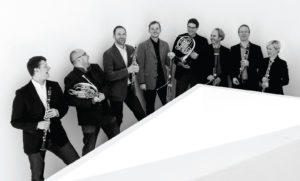 PhilHarmonia Octet was established under the initiative of Vilém Veverka and Václav Vonášek.
Their intention was to create an ensemble which would consist of the best current Czech players and confront the local musical tradition of interpretation with modern European styles and trends.
The aims of this ensemble are to enrich the Czech music scene; to widen its repertoire and especially to displace existing interpretive standards. Members of the ensemble are laureates of international competitions, graduates of international conservatoriums and are members of leading Czech orchestras. (Berlin Philharmonic, WRD Köln, Czech Philharmonic etc.)
In addition to performing in the ensemble, each of the members also performs as a soloist.
The name of the ensemble can be understood in two ways: the original meaning of the word "philharmonic" – indulgence in unison, and the concept of "harmony" – used by ensembles of this type since the time of Classicism.
PhilHarmonia Octet's repertoire follows the defined interpretation of the transformation of musical language against a background of changing musical eras and styles, from the 2nd half of the 18th Century to the beginning of the new millennium.
PhilHarmonia Octet Prague is a wind ensemble that is popular not only on Czech concert stages, but is also successfully established abroad ("De klenge Maarnicher Festival" Luxembourg, the Mitte – Europa International Music Festival, the Lípa Musica International Music Festival, the St Wenceslas Music Festival in Ostrava and others …)
In 2017 PhilHarmonia Octet Prague issued a CD with compositions by L. v. Beethoven and Mozart, whose Serenade in C minor KV 388 can also be heard at this year's LVHF Festival.
The members of PhilHarmonia Octet are:
Vilém Veverka, Monika Boušková – Oboes
Irvin Venyš, Karel Dohnal – Clarinets
Přemysl Vojta, Ondřej Vrabec – French horns
Václav Vonášek, Martin Petrák – Bassoons