Due to the illness of the Norwegian performer Yngve Abelvik, a program change is being made.
The challenging repertoire of Yngve, to whom we wish a speedy recovery, has been entrusted to a young Bulgarian talent, Victor Teodosiev. He will perform alongside Radek Baborák and Orquestrina Baborak.
The final gala on 7th October at the Lednice Castle Riding Hall remains a tribute to the French horn, an instrument that resonates with the environment and history of the Lednice-Valtice area.
Introducing Victor Teodosiev, the "Rising Star" of the 8th concert of LVMF 2023.
Final Gala Concert
October 7, 2023 | 7:00 PM | Lednice Castle Riding Hall
Orquestrina Baborak
Victor Teodosiev, French Horn (Bulgaria)
Radek Baborák, Artistic Director, French Horn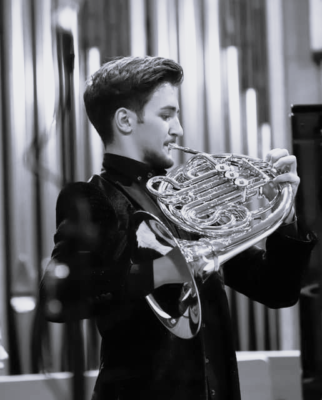 Victor is one of the most prominent young musicians in Bulgaria. This year, he was even selected from among four hundred applicants for the position of the first French horn in the prestigious European orchestra, Concertgebouworkest YOUNG. Victor comes from the third generation of horn players – his grandfather was a member of the Bulgarian Radio Orchestra, and his father was even a professor at the National Academy of Music, Professor Pancha Vladigerov in Sofia. He began playing the French horn himself at the age of twelve and, already at the age of thirteen in 2018, participated in a master class by Arkady Schilkloper. In 2019, he was admitted to the National Music School in Sofia. That same year, he played in the European Capital of Culture, Plovdiv, with the European Youth Symphony Orchestra PROGRESSIVE and attended the Summer Music Academy in Kroměříž under the guidance of Radek Baborák. However, this is by no means everything – even at a young age, he successfully participated in many international competitions, including the International Moscow Music Competition 2020, the International Competition "The Music and the Earth" in Sofia 2021, the Tokyo International Youth Competition 2022, the London Classical Music Competition 2022, and the International Competition of Young Musicians "Ohrid Pearls" 2023. He has also performed as a soloist with many European orchestras (Eurochestries International Orchestra France, Sofia Soloists Chamber Orchestra, Orfeus Chamber Orchestra).