Giovanni Battista Pergolesi (1710-1736) Sinfonia in D Major "Lo Frate'nnamorato"

I. Allegro Spiritoso

II. Andante

III. Allegro

Georg Friedrich Händel (1685-1759) Ombra mai fu / Soprano aria

Georg Friedrich Händel (1685-1759) Concerto Grosso Op. 6, no. 11

I. Andante Larghetto e staccato

II. Allegro

III. Largo e staccato

IV. Andante

Wolfgang Amadeus Mozart (1756-1791) Laudate Dominum KV 339 / Soprano aria

Wolfgang Amadeus Mozart (1756-1791) Divertimento in F major, KV 138

I. Allegro

II. Andante

III. Presto

Franz Schubert (1797-1828) Ave Maria / Soprano aria

Arcangelo Corelli (1653-1713) Major Concerto op. 6, no. 4

I. Adagio – Allegro

II. Adagio

III. Vivace

IV. Allegro

César Franck (1822-1890) Panis Angelicus / Soprano aria

PATRICIA JANEČKOVÁ – Soprano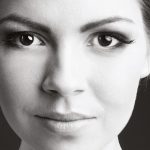 Patricia Janečková, born in 1998 is of Slovak origin and now lives in Ostrava, where she studies opera singing at the Conservatoire under the guidance of soprano Eva Dřízgová – Jirušová.
In 2014, at sixteen, she was the absolute winner of the Concorso Internazionale "Musica Sacra" International singing competition in Rome. She also won a scholarship to the summer singing courses in Arezzo, Italy in 2015, where she worked under the direction of La Scala baritone Renato Bruson.
Her first contact with the opera stage was at the age of nine as a member of the A. Dvořák Theater Opera Studio in Ostrava. As a ten-year old she won the Janacek Philharmonic – Ostrava competition and had her first opportunity to sing with a symphony orchestra.
In 2010, as a twelve-year old, she was the absolute winner of the Czech-Slovak TV competition Talentmania.
Patricia has already performed in a series of appearances at gala concerts and festivals both at home and abroad including; Starry Night – Vienna, Junge Talente der Klassik – Klosterneuburg (Austria), the Petr Dvorský International Music Festival – Jaroměřice nad Rokytnou, the Terras Sem Sombra Festival – Grândola (Portugal). The Smetana Opera festival – Litomyšl, the Festival Les Musicales de Louvergny (France), Kežmarok (Slovakia), Talentinum 2016, and the 2016 Český Krumlov International Music Festival 2016.
In 2015, he had the opportunity to debut in two opera houses in Slovakia (the Košice State Theatre – The Marriage of Figaro / Barbarina, and the Slovak National Theatre – The Magic Flute / Pamina).
In the Czech Republic and Slovakia, she has worked with, amongst others; the Janáček Philharmonic in Ostrava, with the Czech National Symphony Orchestra, with the Via Musica! Orchestra in Bratislava, with the Pardubice Chamber Philharmonic, with the Bohuslav Martinů Philharmonic in Zlín, with the Moravian Philharmonic in Olomouc, with the Janáček Camerata Orchestra, with the Košice State Philharmonic Orchestra and the Karlovy Vary Symphony Orchestra.
THE JANÁČEK CHAMBER ORCHESTRA
The Janáček Chamber Orchestra was founded in 1964 by leading players of Janáček Philharmonic. Zdeněk Dejmek soon became its Artistic Leader and with his impressive musicality, sense of style and systematic and precise work, he brought the orchestra to excellence and impressed on it his distinctive interpretative mark.
The repertoire of the Orchestra includes works from the Baroque to the present, which fit the sound possibilities of a smaller string orchestra. Today it is no longer an exception to extend the orchestra to include other instruments. Its leading interpretation has repeatedly led the Orchestra to perform at festival concerts both domestically and internationally, where it has performed with renowned Czech and foreign soloists. Recordings of the orchestra have been produced by Czech Radio and others including Supraphon, Panton, Riccordi, RCA – JVC, Crystal, Stylton and Slovart Records.
In 2005, Zdeněk Dejmek handed the Artistic Director's baton to lead violinist Jakub Černohorský, who successfully led the Janacek Chamber Orchestra on its tour to South Korea in 2004. In the following years, the orchestra participated in numerous national and international festivals (including the Prague Spring Festival, Janacek Maj, Janáček Hukvaldy, Musica Sacra in Nitra, and festivals in Poland, the Netherlands, and tours to Spain and Italy). In 2011, the Janacek Chamber Orchestra recoded a new profile CD with the British label Chandos Records entitled Czech Music for Strings with works by Janáček, P. Haase and B. Martinů.
, MAJOR PARTNER OF THE CONCERT: